UMotif is the first in Healthcare Disruptors Start up Series. We will host four healthcare entrepreneurs or startups inventing world-first disruptive products and solutions solving healthcare opportunities/challenges using innovative technology and engagement. Tweet us at @healthcarechg with your suggestions.
uMotif helps you to track and understand your health and symptoms. Used by care providers across the world and in major citizen-science projects: 100 for Parkinson's and Cloudy With a Chance of Pain (UK only). The simple, beautiful app has been designed in collaboration with patients, doctors, nurses and health professionals. It can be used by people with a range of health conditions, including cancer, heart failure, arthritis, chronic pain, diabetes and Parkinson's Disease. The app helps you to track symptoms relevant to your health and set up medication and task reminders. The data you enter is used to create your unique Health Report.Your Health Report can help you understand your health better, and enhance the relationships and consultations you have with your clinicians and care and for research.
We interviewed Bruce Hellman, CEO/co-founder UMotif: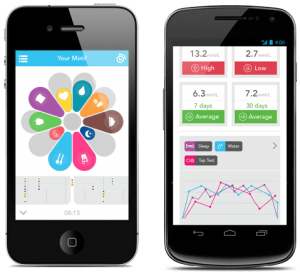 Why uMotif ?
We set uMotif up after meeting patients with Parkinson's Disease, who wanted to use our technology to track their health and symptoms.  From the start we've always been focusing on how we can help patients capture and understand their data.
What is the most important thing you are working on right now and how are you making it happen ?
We're now focusing on putting patients at the heart of clinical trials and research.
Too many trials fail to engage patients – we're working on making sure that patients are active participants, capturing more data and remaining in the study.  By delivering a great experience for patients, we're helping researchers in pharma companies, CROs and academics to capture more data, retain patients on studies and deploy trials more quickly at lower cost.
We're making this happen through our mobile apps for patients to track their symptoms, outcomes and experience through our tech platform validated for clinical trials (21 CFR Part 11 and Good Clinical Practice).
If you sold the company today, what would you want to gain ?  What would you want to avoid losing ?
We're on an exciting and important journey as we see a long future in making all trials patient-centric using our technology – so we're not looking to sell now!  Our ability to move quickly and nimbly serve patients and our clients makes a big difference – something we'd not want to lose as we grow.
What is the lesson that took the longest to learn ?
Focusing clearly on where value is being created for paying customers – now we're very focused on tackling the issue of patient data capture for researchers, which has clear value for our customers.
What was the most difficult choice you had to make to fulfill your role at uMotif ?
We're making lots of small choices every day and I think the most difficult choices are likely to come in future as we grow and help more researchers and patients.
What kind of person succeeds at uMotif ?
Someone who wants to make a difference and gets stuff done.  'Less talk and more doing' is a mantra we learnt from IDEO, one of our investors, focusing on delivering tangible results from our work.
 What legacy do you hope to leave behind for the uMotif team and clients ?
We want to create a legacy of putting patients at the heart of trials, studies and clinical care through patient-centric technology designed for the needs of people
Brenda Hopkins, RN, MBA
Founder, Healthcare Disruptors